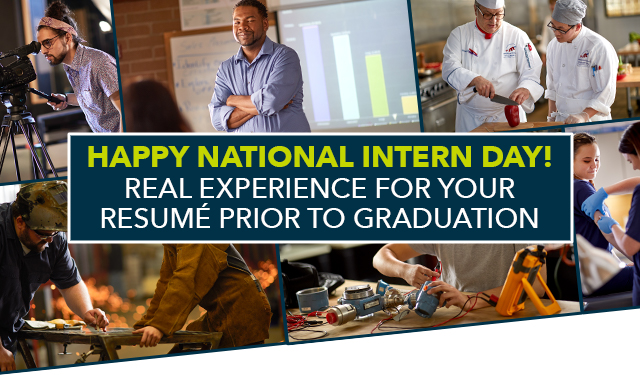 How can you stand out from everyone else with a college degree? A competitive advantage PTC's degree-seeking graduates have when entering the job market is the required completion of internships or clinical rotations, giving them hands-on, real-world experience! In fact, many of our employer partners view our student internships as the start of the hiring process, giving them the opportuity to get to know our students and their skills while they work onsite alongside them. Many of our partners also love the fact they're able to start shaping and molding students and their skillsets, making them an even more attractive candidate for employment after graduation. Over the past 5 years, more than 55% of PTC's graduates have been offered jobs by their internship employers!¹
Check Out Our Employer Partners
What does that mean for you? A potential foot in the door before you've even graduated! Plus, you can get a feel for a company's culture, because let's be honest, you're interviewing them as much as they're interviewing you. What better way to boost your resumé and prepare you for your new career! Click here to learn how you can a leg up on your future competition! Keep scrolling to see how PTC's Career Services works with students throughout their program studies.
I really value the required internship program and how PTC helps you during the internship. If I had any questions and wasn't sure who to ask, I could talk to my teachers. I've actually called Mr. Haddock out in the field, and he's helped me a few times.

Cassidy S., 2019 HVAC Graduate
What does an Internship at PTC look like?
PTC students begin working with their appointed Career Advisor as early as their first quarter to begin building their professional skills.
From there, classes such as Steps to Career Success 1, 2 and 3, and Career Development are built into their program layout before they begin their internship.
Students are encouraged to attend PTC events like career fairs, mock interviews, part-time job fairs, and more for additional prep!
Next stop: Career Advisors will meet with students individually to identify companies that offer each student a beneficial internship experience, and will move forward with coordinating that experience.
July 29 is National Intern Day! As part of PTC's 75th Anniversary Celebration, we are recognizing all of the national holidays that relate to our programs. Join us and be on your way to an internship and career that you'll be celebrating in no time!
¹Showcases 2016-2020 PTC graduates. Data includes those who were available for work and were offered and/or received career search assistance from 1/1/2016-3/30/2021. Includes full-time, part-time, or freelance positions. Visit PTCollege.edu/employmentstats to learn more.